7th Annual KOHL'S Charity Fashion Show
July 28
@
5:00 PM
–
9:00 PM
CDT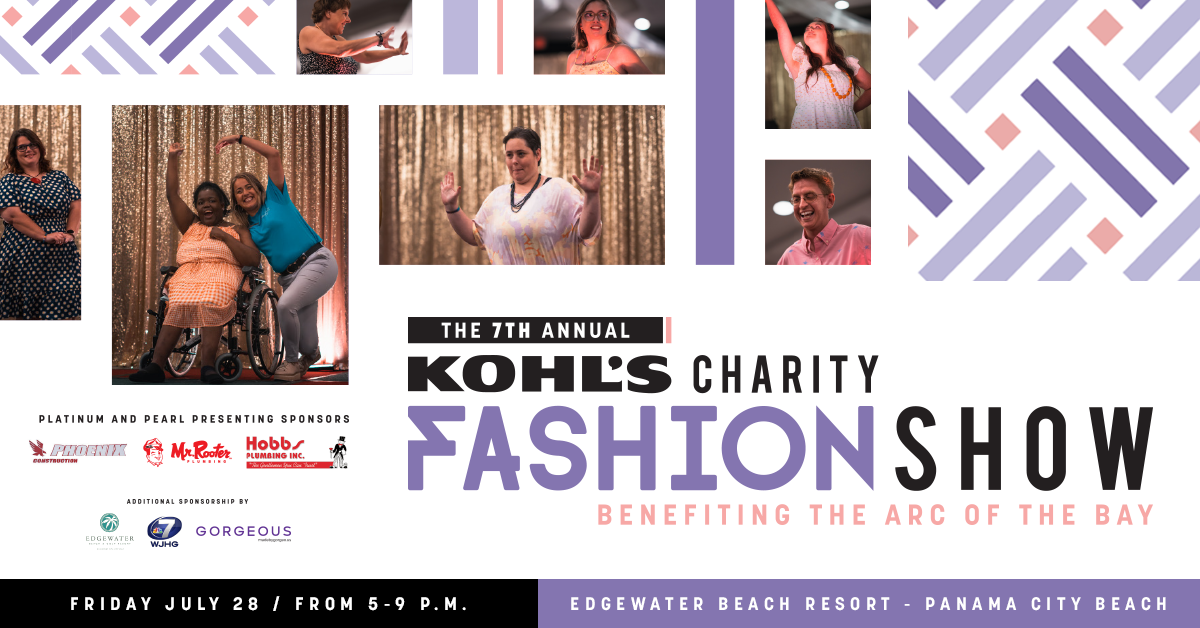 DOORS OPEN AT 5 P.M. WITH COCKTAILS & SILENT AUCTION
JOIN US VIRTUALLY ON FACEBOOK LIVE
TUNE IN ON FRIDAY JULY 28TH FROM 6-9 PM IN THE COMFORT AND SAFETY OF YOUR OWN HOME
Tune in by clicking here: https://www.facebook.com/thearcofthebay/live/
We would like to personally welcome you and thank you in advance for your consideration in supporting The Arc of the Bay's 7th Annual Kohl's Charity Fashion Show scheduled on Friday, July 28th at the Edgewater Beach and Golf Resort Conference Center. The Lord's blessings continue as we have now expanded into our 8 county service area providing life and job skills training to over 450 individuals with special abilities helping them to lead a more productive and independent lifestyle.
We are very excited to share that we have a transportation fleet of 4 buses and 2 vans providing over 4,500 trips annually. We hope to breakground with our new construction "The Bay House", a 6 bedroom residential group home in June 2023. Lastly and most importantly, we respect and value your generosity providing over 86% of every dollar to go towards our programs and services for the individuals that we honored and privildged to serve.
And now…for the main event!! The Kohl's Charity Fashion Show is such an amazing event of love, respect and self-advocacy! You will be introduced to 36 individuals among our community with "Human Needs" because we all are "Special" providing them another way to show the world that they belong. Our models visit Kohl's Department Store where they chose 2 outfits to wear…a day and evening attire. On the night of the event, they hit the runaway strutting and showcasing the latest fashions from Kohl's. At The Arc of the Bay, we teach Self-Advocacy, Self-Choice and Self-Determination and this amazing event allows them another opportunity to let their voices be heard. The Cheers, Applause and tears of Joy echo long after this awesome night.
PLATINUM AND PEARL PRESENTING SPONSORS: PHOENIX CONSTRUCTION, MR. ROOTER PLUMBING, AND HOBBS PLUMBING
EVENT WILL BE EMCEED BY: The Honorable Steve Southerland
PROFESSIONAL DECOR PROVIDED BY: The Blossom Boutique / KIRBY HOLT
THANKS TO OUR SPONSORS:
Platinum & Pearl Presenting Sponsors:
Phoenix Construction, Mr. Rooter, & Hobbs Plumbing
The Arc of the Bay
850-265-2951
rsharpe@bayarc.org