6th Annual KOHL'S Charity Fashion Show
July 22
@
6:00 PM
–
8:30 PM
CDT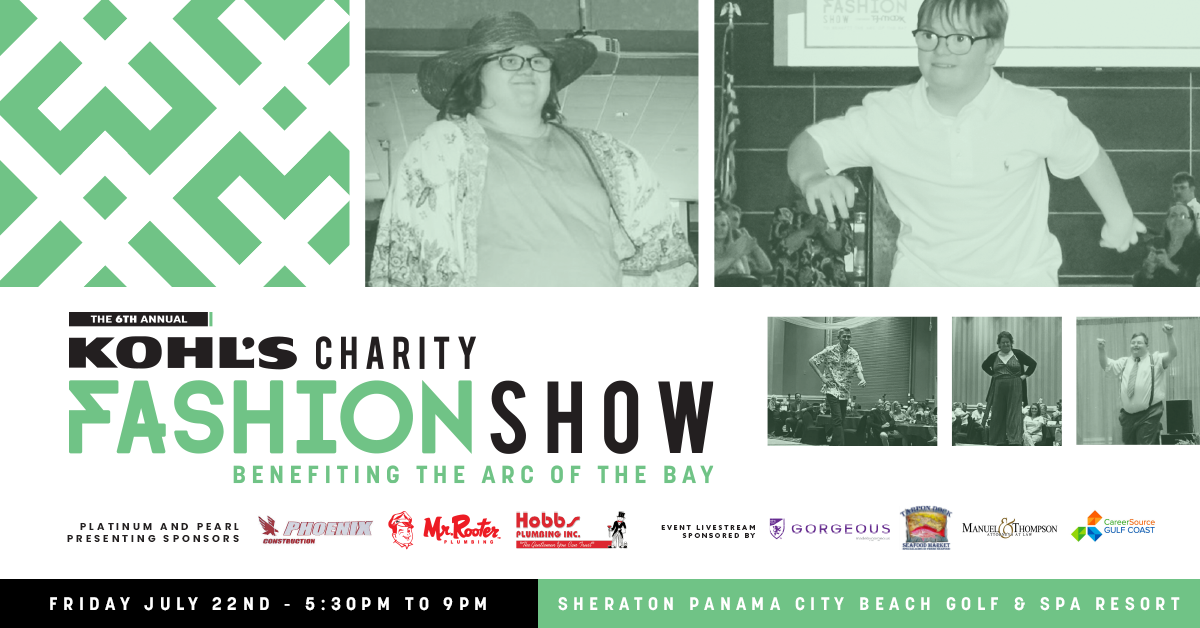 JOIN US VIRTUALLY ON FACEBOOK LIVE
TUNE IN ON FRIDAY JULY 22ND FROM 6-8:30 PM IN THE COMFORT AND SAFETY OF YOUR OWN HOME
Tune in by clicking here: https://www.facebook.com/thearcofthebay/live/
We would like to personally welcome you and thank you for your consideration in supporting The Arc of the Bay's 6th Annual Kohl's Charity Fashion Show scheduled on Friday, July 22nd at the Sheraton Bay Point Resort. It's an exciting time at The Arc of the Bay as we continue to expand our programming and offerings to the 300+ individuals with Human Needs in the eight counties serving the Fourteenth Judicial Circuit in providing life and employment skills that allow them to lead a more productive and independent lifestyle.
We would like to give you an idea of what to expect during this amazing event. You will be introduced to 36 individuals with "HUMAN NEEDS" as we are all "SPECIAL" as they will be strutting and showcasing the latest fashion trends from Kohl's Department Store as they walk down the 'catwalk'. At The Arc of the Bay, we teach Self-Advocacy, Self-Choice, Self-Determination and this wonderful event allows them the opportunity to do just that…EXPRESS THEMSELVES!! Each one looks forward in sharing with you THEIR PRIDE, THEIR PERSONALITY, and THEIR OWN PERSONAL STYLE…of WHO THEY ARE.The cheers, applause and tears of joy from our previous events are still echoing and remain with them, our staff and everyone who attends.
Thanks in advance for your consideration in sponsoring our 6th Annual Charity Fashion Show.
PLATINUM AND PEARL PRESENTING SPONSORS: PHOENIX CONSTRUCTION, MR. ROOTER PLUMBING, AND HOBBS PLUMBING
EVENT WILL BE EMCEED BY PARIS JANOS
PLATINUM AND PEARL PRESENTING SPONSORS: PHOENIX CONSTRUCTION, MR. ROOTER PLUMBING, AND HOBBS PLUMBING
EVENT WILL BE EMCEED BY PARIS JANOS
PROFESSIONAL DECOR PROVIDED BY: The Blossom Boutique / KIRBY HOLT
THANKS TO OUR SPONSORS:
Platinum & Pearl Presenting Sponsors:
Phoenix Construction, Mr. Rooter, & Hobbs Plumbing
Décor Sponsor
Isaac Byrd Family Foundation
Bar Sponsor
Centennial Bank
Photo Booth Sponsors
Roussos Air Conditioning & Tyndall Federal Credit Union
Registration Sponsor
Elevation Coach (Christopher Gough), Community Bank, & Panama City News Herald
Silent Auction Sponsors
Woodmen Life & John Douglas Insurance Agency
Live Auction Sponsor
Regions Bank
Event Livestream Sponsors
Gorgeous, Tarpon Dock Seafood Market, Manuel & Thompson, P.a., & Careersource Gulf Coast
Rehearsal Dinner Sponsor
Greg Abrams Seafood, Tazikis Mediterranean Café, & Brian D Hess Attorney At Law
Valet Sponsor
Marshall Brothers Construction And Engineering
Table Sponsors
Phoenix Construction, Hobb's Plumbing, Mr. Rooter Of Northwest Florida, Isaac
Byrd Family Foundation , Fyfe Family Foundation, Florida Power & Light, Norm-jodi Asbell Realty, Llc., Centennial Bank, Regions Bank, Woodmen Life, John Douglas Insurance Agency,
Roussos Air Conditioning, Tyndall Federal Credit Union, Tarpon Dock Seafoot Market, Greg Abrams Seafood, Elevation Coach, Christopher Gough, Community Bank, Panama City News Herald, Tazikis Mediterranean Café, Marshall Brothers Construction &
Engineering, Manuel & Thompson, P.a., Careersource Gulf Coast, Brian D Hess Attorney At Law, Beachy Beach Real Estate, Merchant Management Group, Jim And Karen Works, Acentria Insurance, The Financial Ark, Llc., Wmbb, A Superior Air Conditioning,
H.g. Harders & Son, Inc., Trustmark, Culligan Water, Panhandle Marina And Boatyard, Inland Construction & Engineering, Inc., Clemons Company, Proper Fox, Beef 'o' Brady's
Lynn Haven, Innovations Federal Credit Union, Mid-south Lumber Company Of
Nwfl Inc., Daystar Cleaning, Restore Physical Therapy, Supreme Paper, And Supplies, Kirkland Insurance Agency, Fisher Brown Bottrell Insurance, Jimmy Johns, Ashley Ice, Think Real Estate,
Bay County Chamber Of Commerce Ambassadors, Cpc Office Technologies, Jernigan Family, Lays Insurance, Aspire Financial Partners, Gps, Forest Park Animal Hospital, Harden Family,
Sheraton, Kohl's, Ellis Insurance Agency, Peoples First Insurance, Bill Krizner,
And The Arc Of The Bay – Advisory Committee